Important 20th Century Street Trends in Western Fashion World include
1. Zoot Suits
2. Beatniks
3. Teddy Boys / Girls
4. Mods
5. Hippies
6. Punks
7. Disco
8. Hip-Hop
.................................................................

ZOOT SUITS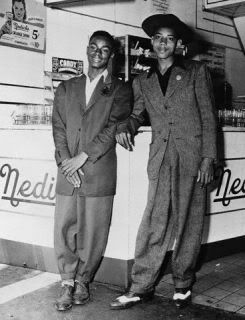 Teens Dressed in Zoot Suits


Designer - Unknown
Date Photographed - 12 Jun 1943
Courtesy - © Bettmann/CORBIS
A zoot suit featured a knee-length coat with outrageously padded shoulders, paired with high-waisted, wide-legged, tight-cuffed, pegged trousers. It was popularized by Mexican Americans, African Americans, Puerto Ricans, Italian Americans, and Filipino Americans in late 1930s and 1940.
In addition, the zoot suiter topped things off with a wide-brimmed pancake felt hat with a long feather, a long gold chain hanging down to his knees, and a pointy, French-style shoes. The zoot suits were for special occasions, such as a dance or a birthday party. The amount of material and tailoring required made them luxury items. (New Mexico Viewpoint) Thus, the oversized suit was an extravagant personal style and a declaration of freedom and auto-determination, although retired servicemen and the middle class viewed it as a rebellious garment for the era. (Cocteausolo)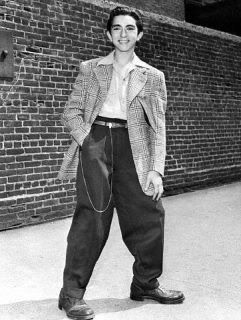 ZOOT SUITS: Zoot by any other Name - a Patriot just the same.


Designer - Unknown
Date Photographed - ca. 1943
Courtesy - © Bettmann/CORBIS
A Modern Silhouette of Zoot Suit


Marc by Marc Jacobs, Fall 2008 RTW runway.
Courtesy - Style.com
The Modern Zoot Suit of Jean Paul Gaultier
features boarded shoulders and Oversize Jacket
Fall 2009 RTW.
Courtesy - MenStyle.com
..................................................
TEDDY BOYS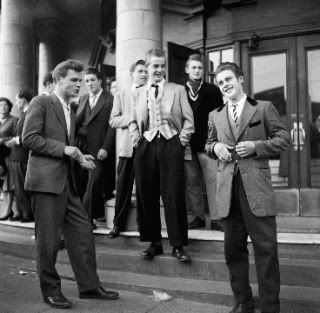 Portrait of Some London "Teddy Boys"


Date - ca. 1954
Courtesy - © Bettmann/CORBIS
The Teddy boy emerged in the 1950s as Britain was coming to the end of post-war austerity and represented the first face of British youth culture. The clothing that the Teddyboys wore was designed to shock their parents' generation.
It consisted of an Edwardian style drape jacket, much too 'camp' for a working class man, suede Gibson shoes with thick crepe soles, narrow 'drainpipe' trousers, a smart shirt and a loud tie - usually of the 'Slim Jim' or bootlace type. (Rockability)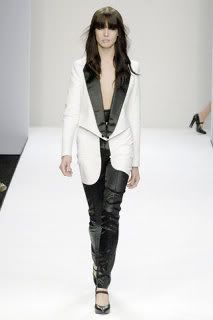 Teddy Boy Inspired Tux Jacket and Narrow Pants.


Lanes Laugesen, Fall 2008 RTW
Courtesy - Style.com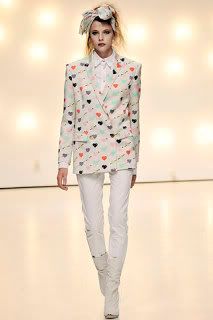 Sweet Interpretation of Teddy Boy Look.


Topshop Unique, Spring 2009 RTW
Courtesy - Style.com
..................................................
BEATNIKS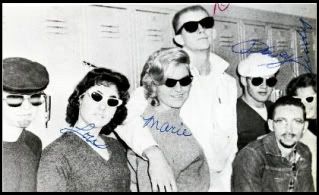 Beatnik Day


Date - ca. 1960
Courtesy - RetroGalaxy.com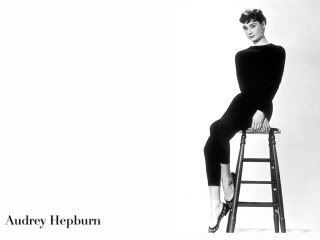 Audrey Hepburn in beatnik look


Date - 1955
courtesy - © Norman Parkinson Archive
Beatniks are part of a sociocultural movement in the 1950s and early 1960s that subscribed to an anti-materialistic lifestyle in the wake of World War II. (Wikipedia)
The typical beatnik look characterized by loose-fitting hooped T-shirt, black beret, goatee beard, sunglasses, poetry book in hand; for chicks, subtract the beard and add deep fringe and heavy eye make-up. (Retrogalaxy) Fashions for women included black leotards and wearing their hair long, straight and unadorned in a rebellion against the middle-class culture of beauty salons. (Wikipedia)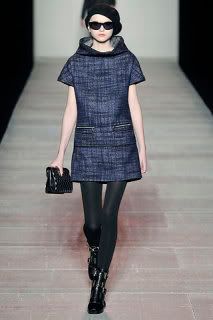 Beatnik Inspired Simple Line, Black Sunglasses and Beret


Marc by Marc Jacobs, Fall 2008 RTW
Courtesy - Style.com
Wearing all in Black Was a Signature of Beatnik Era.


Lanvin, Fall 2009 RTW
Courtesy - Style.com
..................................................
MODS
Young Women in Mod London Fashions


On a London street, one young woman defies fashion by continuing to wear the miniskirt,
while two other young women wear the newer maxiskirt in 1967.
Date photographed: December 20, 1967
Courtesy - © Bettmann/CORBIS
Mod fashion started in London, in the 60s. A small group of young men and a few girls started to look to French and Italian cool, combined with American Ivy League style to create a uniquely British youth fashion. (Glasgowmod)
Female mods dressed androgynously with short haircuts, men's trousers or skirts, flat shoes and little makeup. In addition, they pushed the boundaries of parental tolerance with their miniskirts. (Wikipedia)
Male mods adopted a smooth, sophisticated look that emphasized tailor-made Italian suits (sometimes white) with narrow lapels, mohair clothes, thin ties, button-down collar shirts, wool or cashmere sweaters (crewneck or V-neck), and pointed-toe leather shoes.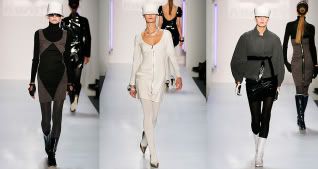 Modern Mod Inspired Look


Abaete, Fall 2007 RTW
Courtesy - Style.com
Mod Inspiration in Today's Menswear


Rag & Bone, Spring 2009 RTW
Courtesy - Style.com
..................................................
HIPPIES
Yellow and Red Paisley Shirt


A member of the band Steppenwolf wears a red and yellow paisley shirt.
Date Photographed - December 1968
Courtesy - © Henry Diltz/CORBIS
The hippie subculture was originally a youth movement that began in the United States during the mid-1960s and spread around the world. Since then, many aspects of hippie culture have been assimilated by mainstream society and had a major effect on culture, influencing popular music, television, film, literature, and the arts. (Wikipedia)
Hippie fashion statement included long haired, sandals or sometimes even barefoot, colorful tie-dyed shirts, a vest, bell-bottom pants, and several other accessories. For the ladies, the picture may also consist of colorful peasant blouses and long, full skirts.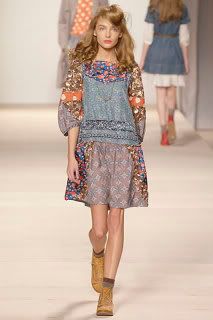 Hippie Floral Printed Fabric and Flowing Silhouette


Marc by Marc Jacobs
Spring 2007 RTW
Courtesy - Style.com
Hippie Inspired Accessory


Anna Sui, Spring 2009 RTW
Courtesy - Style.com
..................................................
DISCO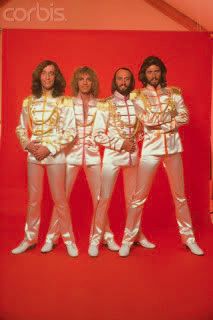 Set of Sergent Pepper's Lonely Hearts Club Band in Disco Fashion


Date Photographed - September 1978
Courtesy - © Michael Childers/Sygma/Corbis
Disco looks began in the 1970s and was memorable for its hot pants look and Spandex tops. Shiny clinging Lycra stretch disco pants in hot strident shiny colours with stretch sequin bandeau tops were often adaptations of professional modern dance wear that found itself making an impact in discos as disco dancing became serious. Gold lame, leopard skin and stretch halter jumpsuits and white clothes that glowed in Ultra Violet lights capture the 70s Disco fashion perfectly. (Fashion-era)
Disco Shiny Silver Synthetic Fabric


Fall 2008 RTW, Emilio Pucci Runway
Courtesy - Style.com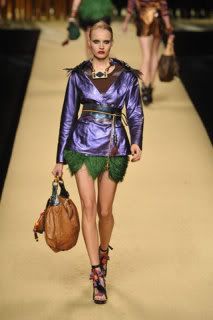 Disco inspired Shiny Jacket


from spring 2009 RTW, Louis Vuitton Runway
Courtesy - Style.com
..................................................
PUNK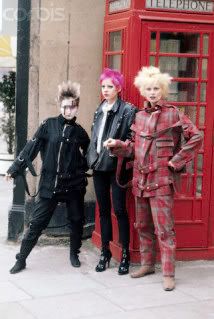 Vivienne Westwood in Punk Attire


Vivienne Westwood (in plaid) leans against a telephone box with other punk girls on a London street.
Date Photographed - ca. April 12, 1977
Courtesy - © Condé Nast Archive/Corbis
Punk first emerged in the mid 1970s in London as an anarchic and aggressive movement.
Punk fashion is the styles of clothing, hairstyles, cosmetics, jewelry, and body modifications of the punk subculture. The style characterized by black leather rocker jackets, tight jeans, studs, tartan kilts, chain and belt, and combat boots.
Modern punk from Punk Godmother


Magenta Patent leather Jacket and pants
Vivianne Westwood, Spring 2009 RTW
Courtesy - Style.com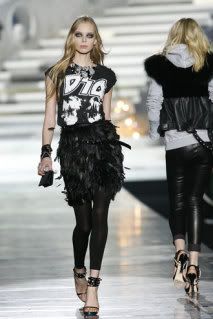 Punk T-shirt from Dsquared2


Fall 2009 RTW Runway
Courtesy - Style.com
Studded Punk High Heels


Christian Louboutin for Rodarte
Rodarte, Fall 2008 Collection
Courtesy - Jack & Jil
..................................................
HIP HOP
Hip hop group Run-DMC,
Jason "Jam-Master Jay" Mizell, Joseph "Rev Run" Simmons and Darryl "D.M.C." McDaniels.
Date Photographed - 1987
Courtesy - © Laura Levine/Corbis
Hip-hop fashion is a distinctive style of dress originating with African-American, Caribbean-American and Latino youth. The style involves with baggy jeans, brightly colored name-brand tracksuits, bomber jackets sneaker.
Popular accessories included large eyeglasses, kangol hat, nameplates, and multiple rings. In addition, both male and female hip hoppers wear oversized chunky heavy jewelry.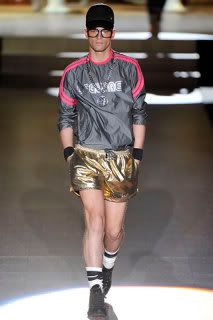 Hip Hop Inspired Golden Gym Shorts and Statement Jewelry
Dsquared2, Spring 2009 RTW
Courtesy - Style.com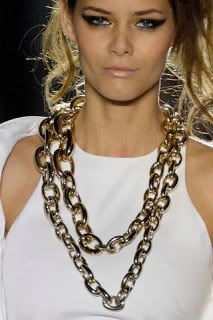 Heavy Gold chain Necklace
Dsquared2, Spring 2008 RTW
Courtesy - Style.com
An Oversized Tracksuit
Marc Jacobs,
Fall 2009 RTW Runway
Courtesy - Style.comSource - cocteausolo.blogcn.com/diary,24327491.shtml
en.wikipedia.org/wiki/Beatnik
en.wikipedia.org/wiki/Hip_hop_fashion
en.wikipedia.org/wiki/Mod_(lifestyle)#Fashion
nmviewpoint.typepad.com/new_mexico_viewpoint/language/
retrogalaxy.com/culture/beatniks.asp
rockabilly.nl/general/teddyboys.htm
Photo Courtesy
- Corbis.com
Style.com